Dear Lovers of the Night,
We are proud to announce a new HALLOWEEN EDITION of the Bal du Masque:
Friday 28th of October 2011 is the date!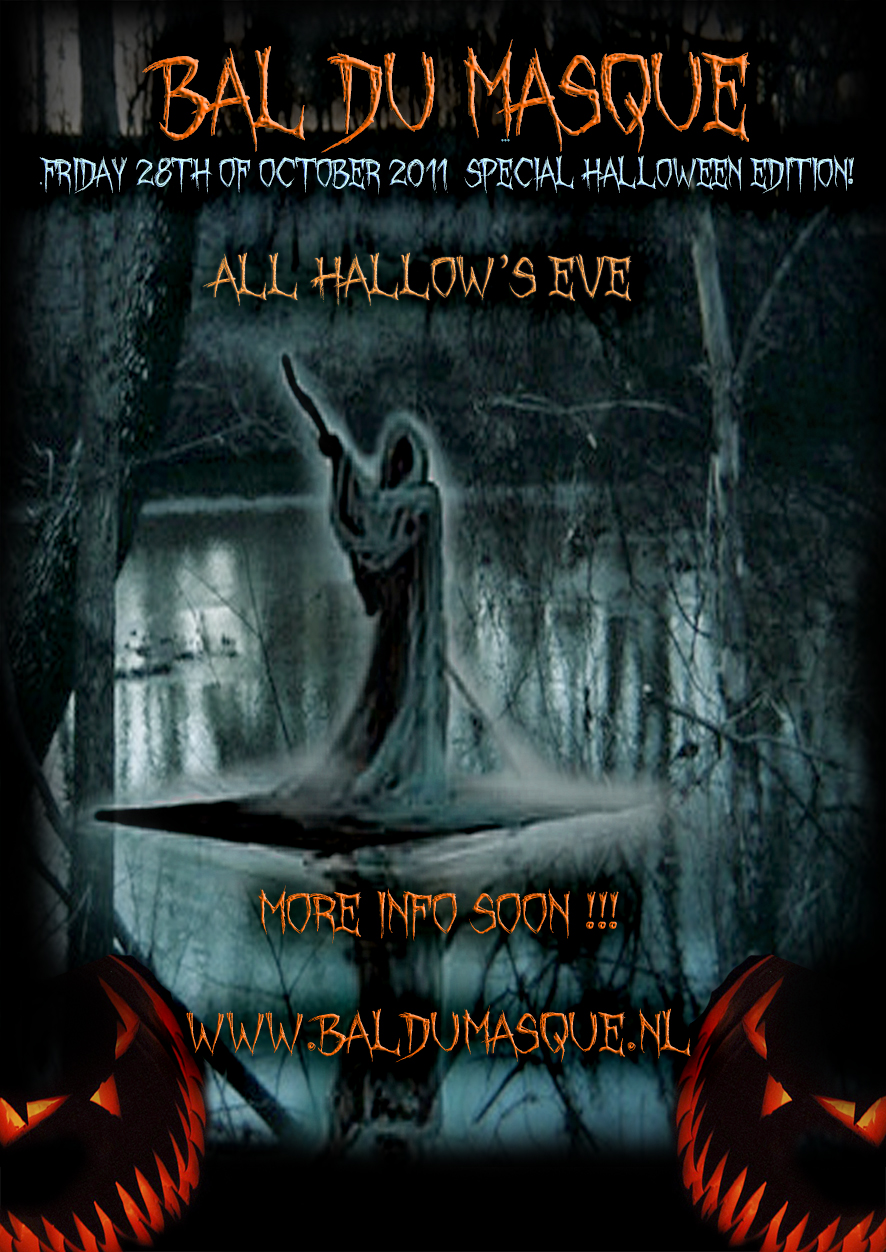 More info shall follow soon...
****
We are proud to announce that our 2007 HALLOWEEN party shall take place on a ship!
The famous Ms. STUBNITZ (at the NDSM Werf in Amsterdam) has opened its doors to us!
Date: Wednesday 31st October.
To our sincerest regrets, Asrai shall not be playing, they cancelled their show...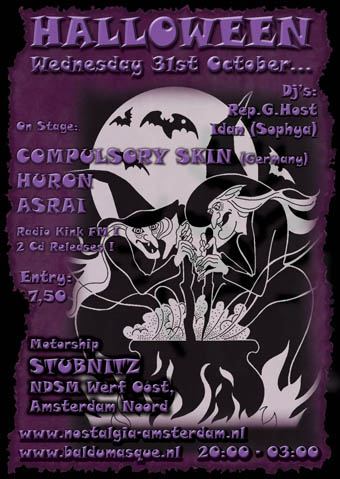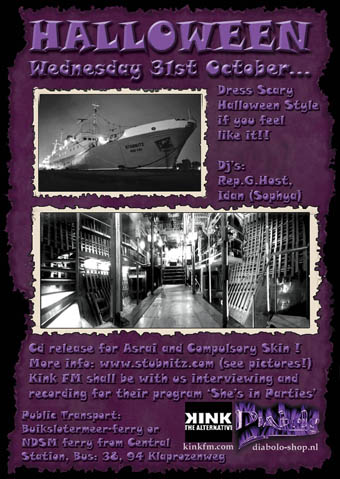 Bands Performing:
Asrai from Rotterdam
Huron from Amsterdam
Compulsory Skin from Germany
Dj's: Idan (Sophya) and Rep.G.Host
This line-up shall fill the night with a mixture of Heavy Rock & Whisky Voices,
Post-Punk Electronic Pop, Gothic-Metal, Dark,Wave-y '80's, and Gothic '90's!!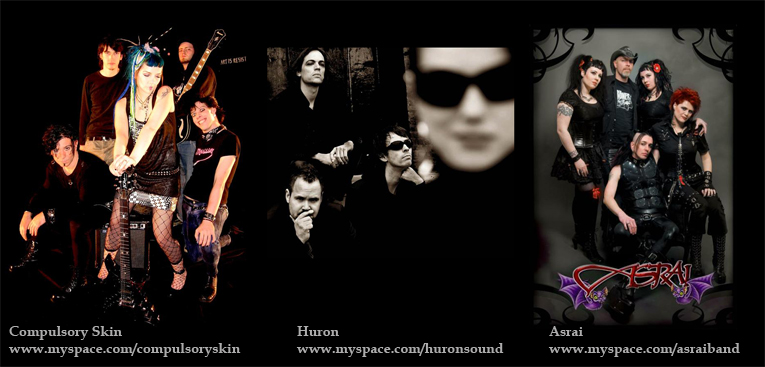 To get there:
BUS 35, 38, 94, 95 from Central Station, or take the FERRY to NDSM Werf.
Schedule Ferry (see below)
NIGHTBUSSES to Central Station (Every half an hour until 04:00):
363: Goes every hour throughout the night at :18 and :48 from Klaprozenweg
362: Is further away, goes every hour :25 and :55 from Barkpad
FERRY SCHEDULE:

Furthermore: Due to circumstances Asrai shall not be playing!
Huron and Compulsory Skin shall play before 00 hrs.
We hope to find a replacement show, you'll find out at the STUBNITZ!!!!
No masks obliged, costume any way you like it or none!!
Hope to see you all there,
Medusa
What a wonderful party HALLOWEEN 2006 has been! So many guests showed up on a tuesday, a weekday! Unbelievable!
Thank you all for being there!
A special thanks to LETATLIN, COURTESAN, SOPHYA and the DREAMSIDE for their music and performance, and to COCO, MOLLY and TAIZO.
Another big thank you to Damon, Paul and Rudi, Lucia, Mario, Vince, Jess, Frank, Lilian, Te, Allan, Idan, Alex, Joan, Sahrabel, the guys from Goliath, Niels, Judocus, Kink FM, and Fabio for the wonderful pictures, and everybody else!!
On stage were:
LETATLIN: The DREAMSIDE: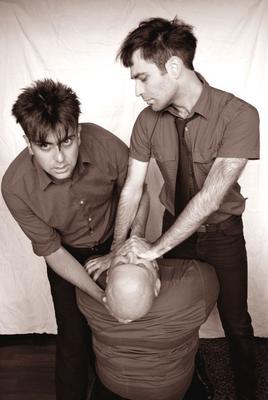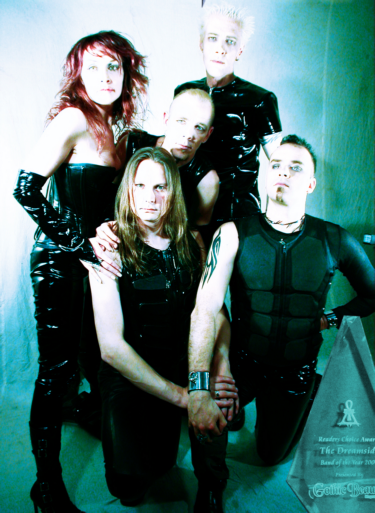 COURTESAN: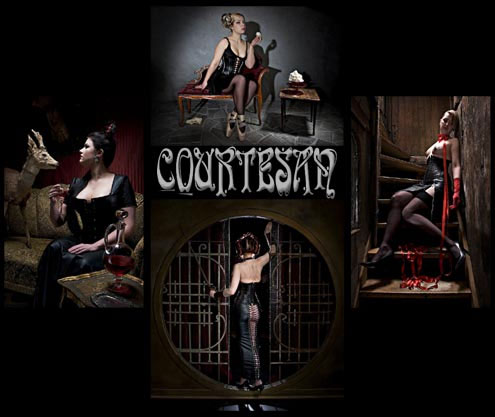 SOPHYA: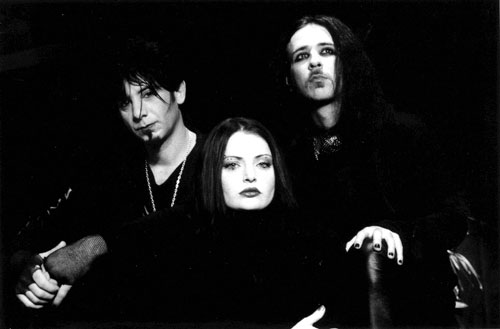 COCO BLACK PUREHEART & Friends (Molly and Taizo):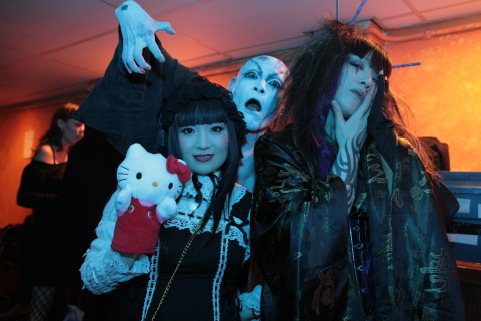 Click here for the photographs of the party: